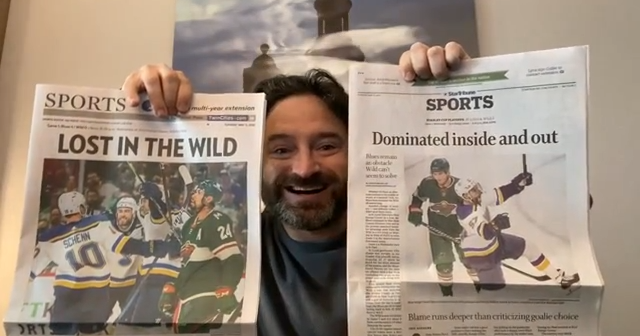 Not surprisingly, Berube would like to spend less time in the box in Game 2.
www.stltoday.com
Jim Thomas
ST. PAUL, Minn. — In a game that featured 18 penalties and one penalty shot, the Blues spent 25 minutes 3 seconds either on the power play, on the penalty kill, or engaged in 4-on-4 play because of coincidental minors.
Surely, coach Craig Berube couldn't have expected that would be the case going into Game 1 of his team's playoff series against the Minnesota Wild.
"You never know how games go, right?" Berube said. "Nobody does. All I know is we gotta be more disciplined in our penalties. That's what I focus on."
Berube would've liked better play offensively in 5-on-5 situations in the Blues' 4-0 victory. With the exception of the fourth line, which was centered by Tyler Bozak, the Blues didn't have a ton of possession time at even strength. Then again, there was only 34 minutes 57 seconds of 5-on-5 play Monday because of all the penalties.
"From an offensive standpoint, 5-on-5, there just wasn't a lot of time, a lot of ice," Berube said. "We pride ourselves on being a good offensive team. I think we can do a better job there.
"But overall, there was a lot of penalties, so it limited 5-on-5 play quite a bit. ... It limits a lot of guys' ice time and limits the flow of the bench, but our team did a good job of staying composed throughout it."
Penalties were plentiful in the four opening-round games played Monday to open this year's Stanley Cup playoffs. The Toronto-Tampa Bay game featured 24 penalties.