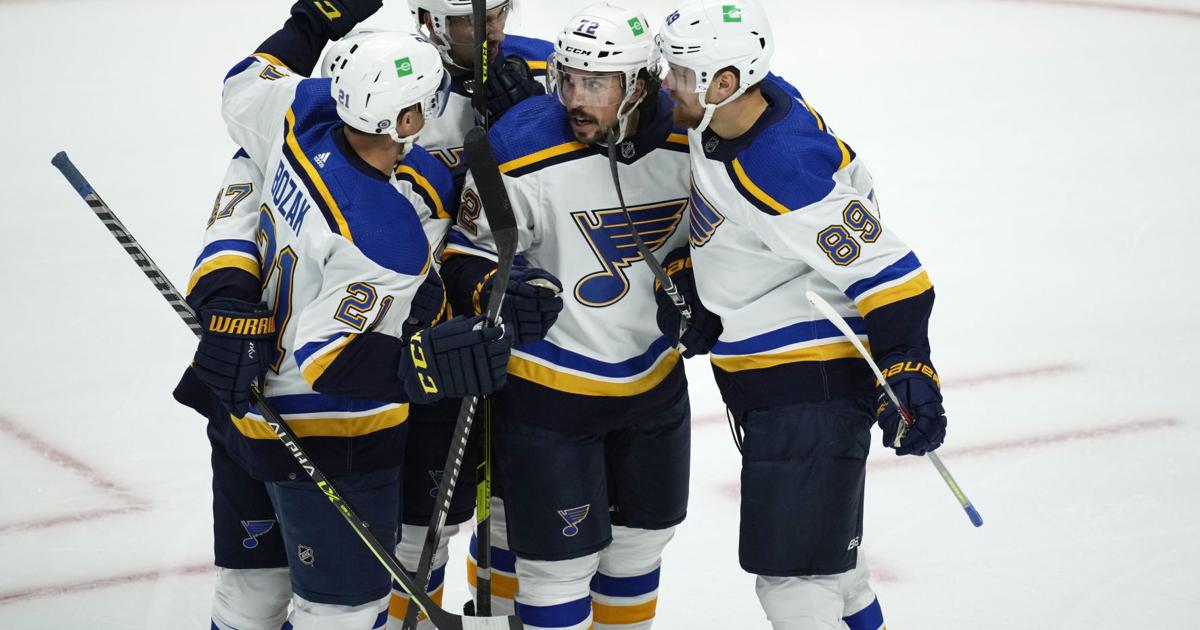 O'Reilly's empty-netter seals 5-3 win in opener as host Avs make a late push.
www.stltoday.com
A wild win to begin for Blues as Perron has two goals and they hold on late​
DENVER — As much as the Blues said getting swept last May in the playoffs by Colorado was in the past, they remembered. And Brayden Schenn remembered, the hit by Nazem Kadri in Game 2 on an illegal check to the head that ended Justin Faulk's season.
Schenn dropped the gloves to fight Kadri just 40 seconds into Saturday's season opener against the Avalanche at Ball Arena. That set the tone for a game in which the Blues jumped out to a 3-0 lead, and then with the help of a disallowed Colorado goal that would've tied the game at 4-4 with 2 minutes 49 seconds left to play held on for a 5-3 victory.
"These guys, they care about each other," coach Craig Berube said. "A pretty close team here. These guys, they just take care of that stuff themselves. But it's great to see that the care is there for your teammate."
Suffice it say Faulk was highly appreciative.
"Schenn's obviously a great teammate, fits the mold exactly of what you want as a teammate," Faulk said. "You couldn't ask for more from him, day in and day out. There's a reason he's a leader on this team. Those things aren't asked of people but he's the type of guy that will take care of his teammates."
Schenn said he thought about it for a while. And he's had nearly five months to think about it since the Kadri hit occurred on May 19.
-----------------------------------------------------------------------------
Blues played great and held off a late Av's charge....The Av's thought they had scored the tying goal but it was disallowed because it was kicked in with a skate....
Next game is Monday against the Arizona Coyotes.....
Let's go Blues
Last edited: