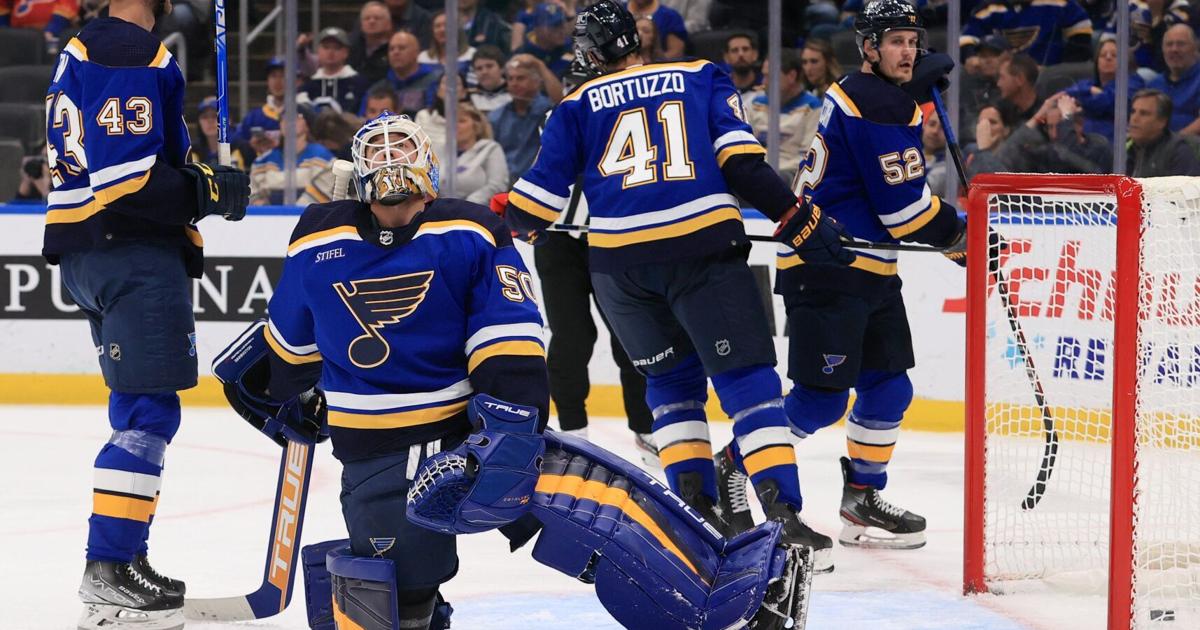 The Blues gave up four goals in the second period and got booed off the ice as their losing streak rose to five games
www.stltoday.com
Tom Timmermann
Monday night was not a step in the right direction for the Blues.
Looking to snap out of the first four-game losing streak of the Craig Berube Era, the Blues went backward, and emphatically so, with a 5-1 loss on Monday night to the Los Angeles Kings at Enterprise Center. It's the first time the Blues have lost five in a row in regulation since February of 2018.
Unlike previous games, the Blues didn't wait till the third period to collapse. This time they did it in the second period, when they allowed four goals in six minutes, 15 seconds, to go from being down 1-0 to trailing 5-0 and bringing an early end to goalie Jordan Binnington's evening — though it was some lax defending from the Blues that mostly was responsible. The Kings' first three goals all came on backdoor plays.
The Blues was booed off the ice after the second period. Not many people still were on hand at the end of the game.
The Blues' goal came from fourth-line forward Alexey Toropchenko, 43 seconds after Binnington left in favor of Thomas Greiss.
The Blues now have two days off until they face the New York Islanders on Thursday, looking to avoid a six-game losing streak for the first time since 2014.
The offense had some chances in the third period, but by then it didn't matter much. The Blues remain hesitant to do one of the essentials of the game, namely shooting, as evidenced by the team failing to get a shot off on a three-on-0 break in the second period.